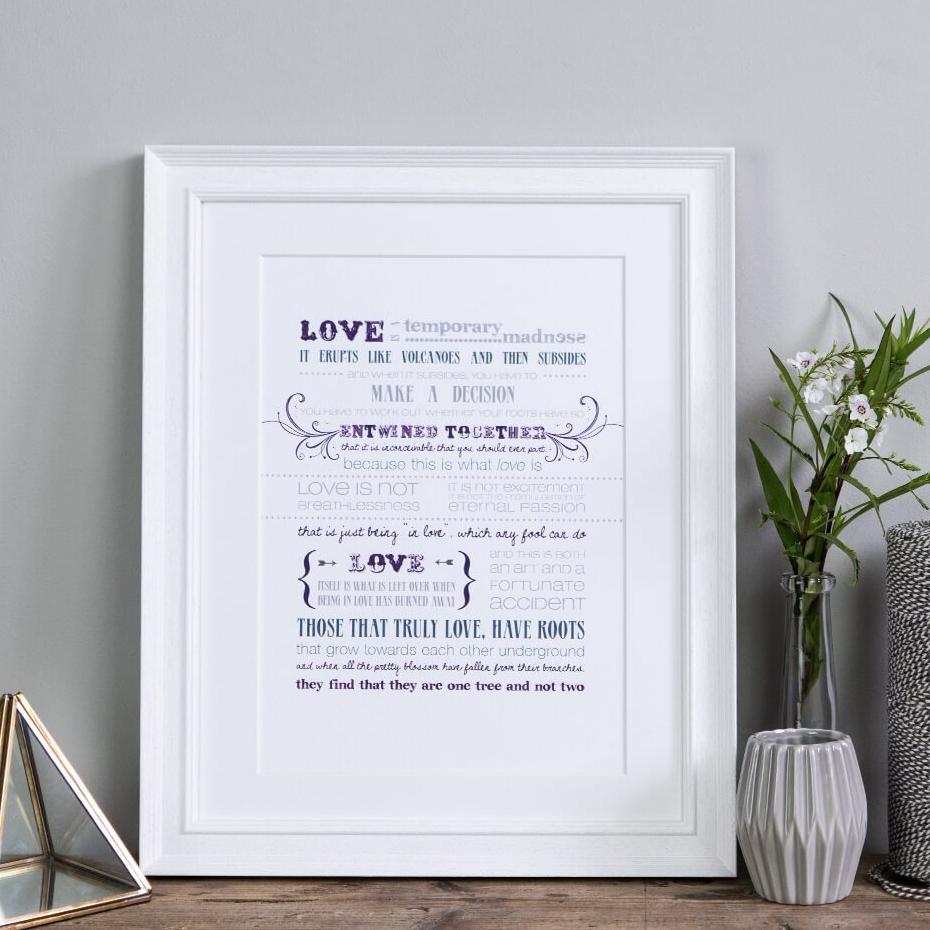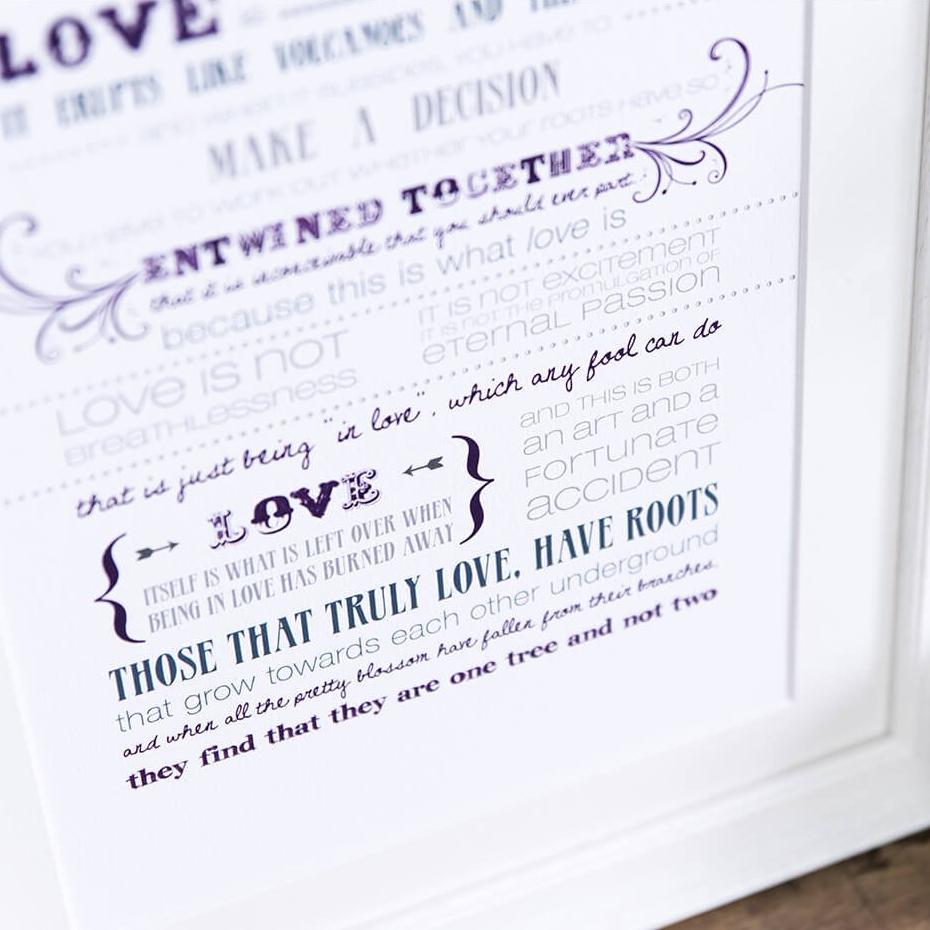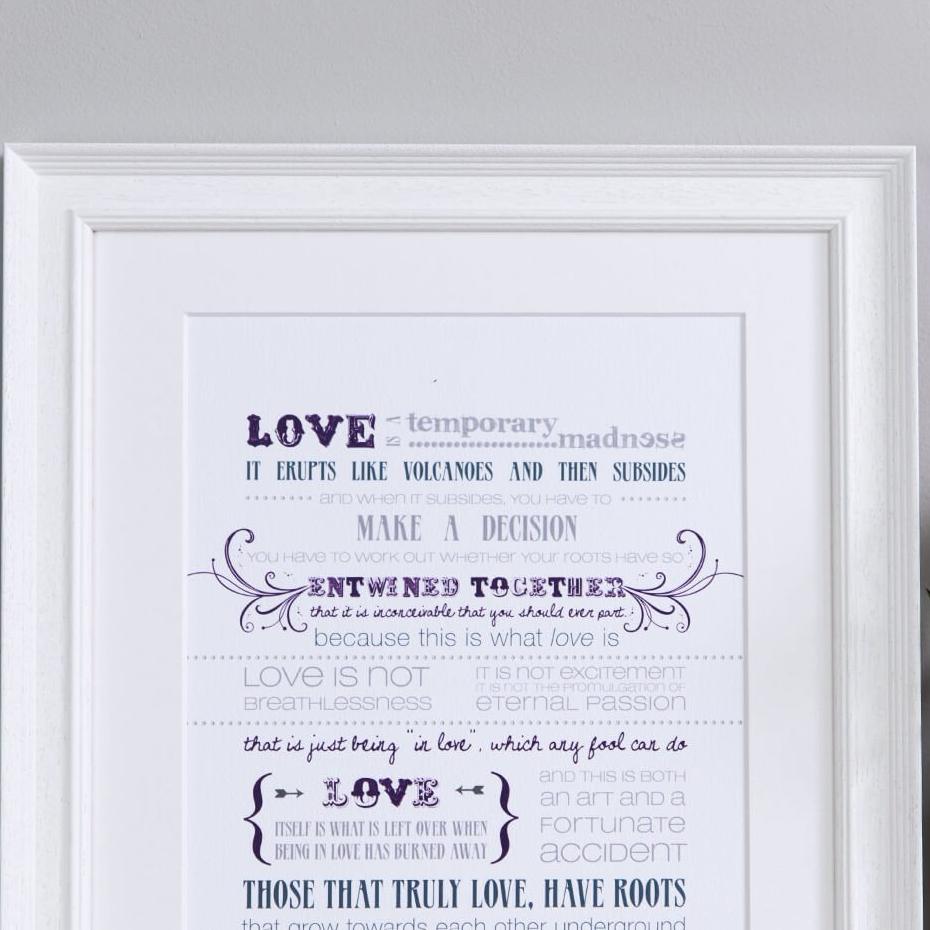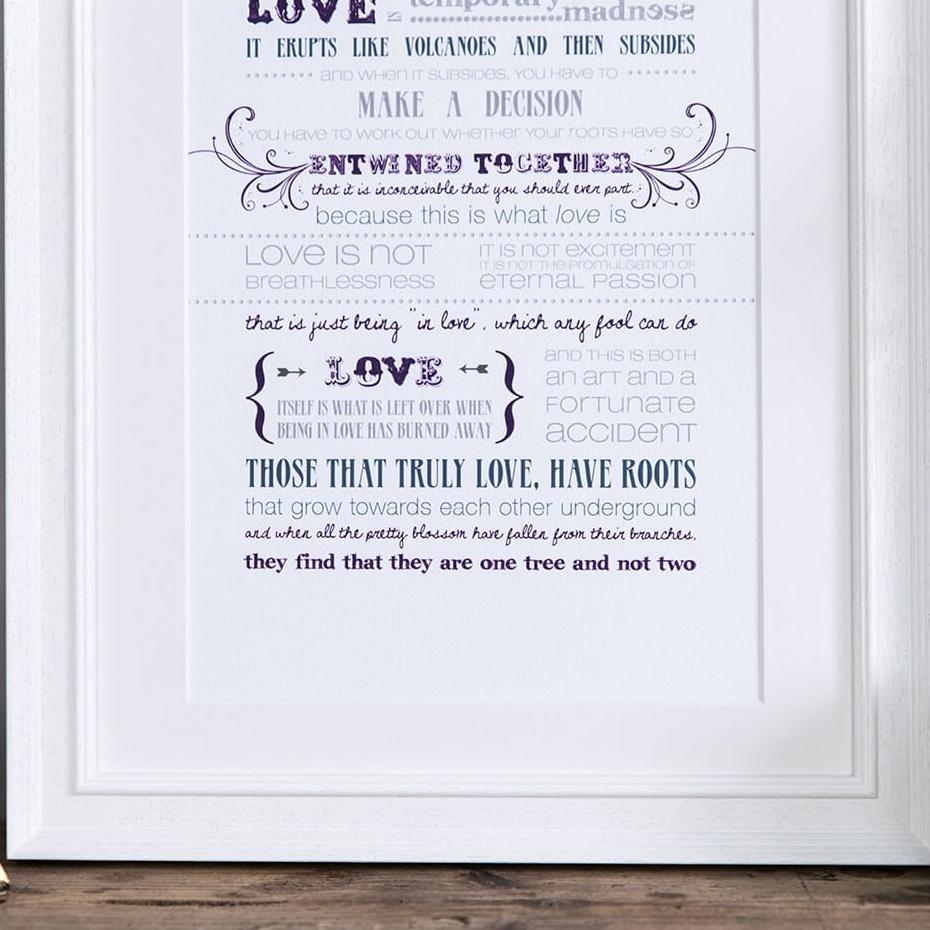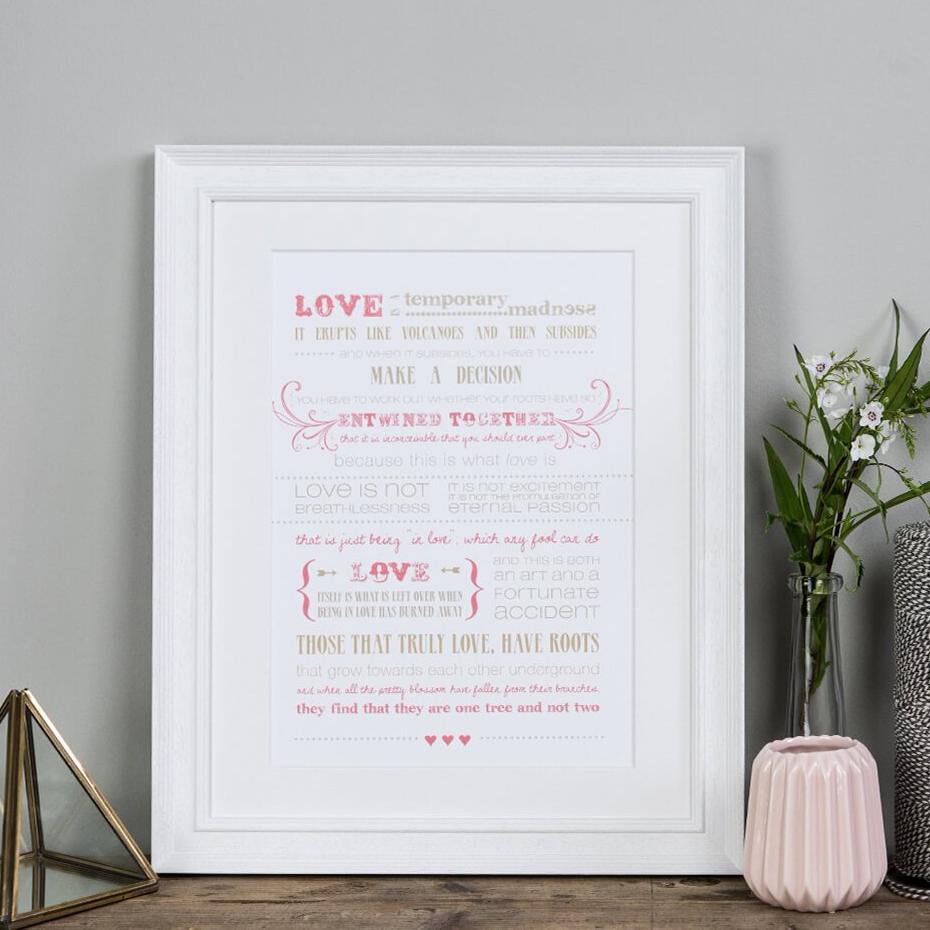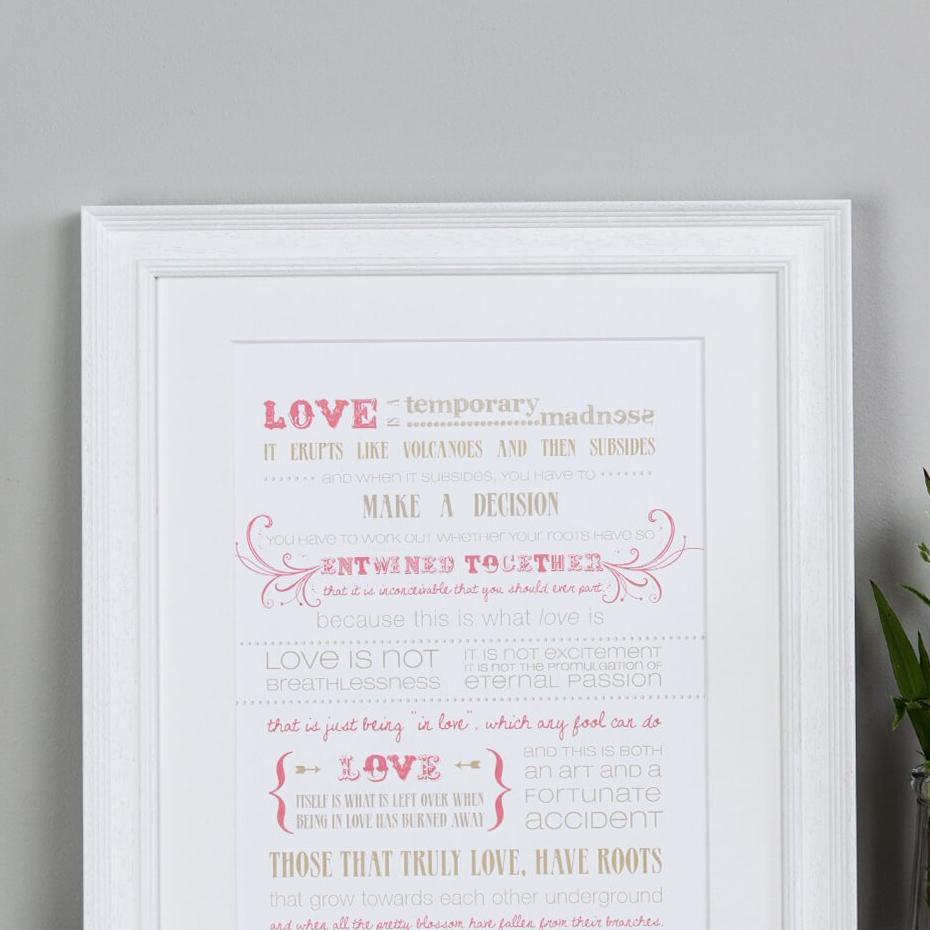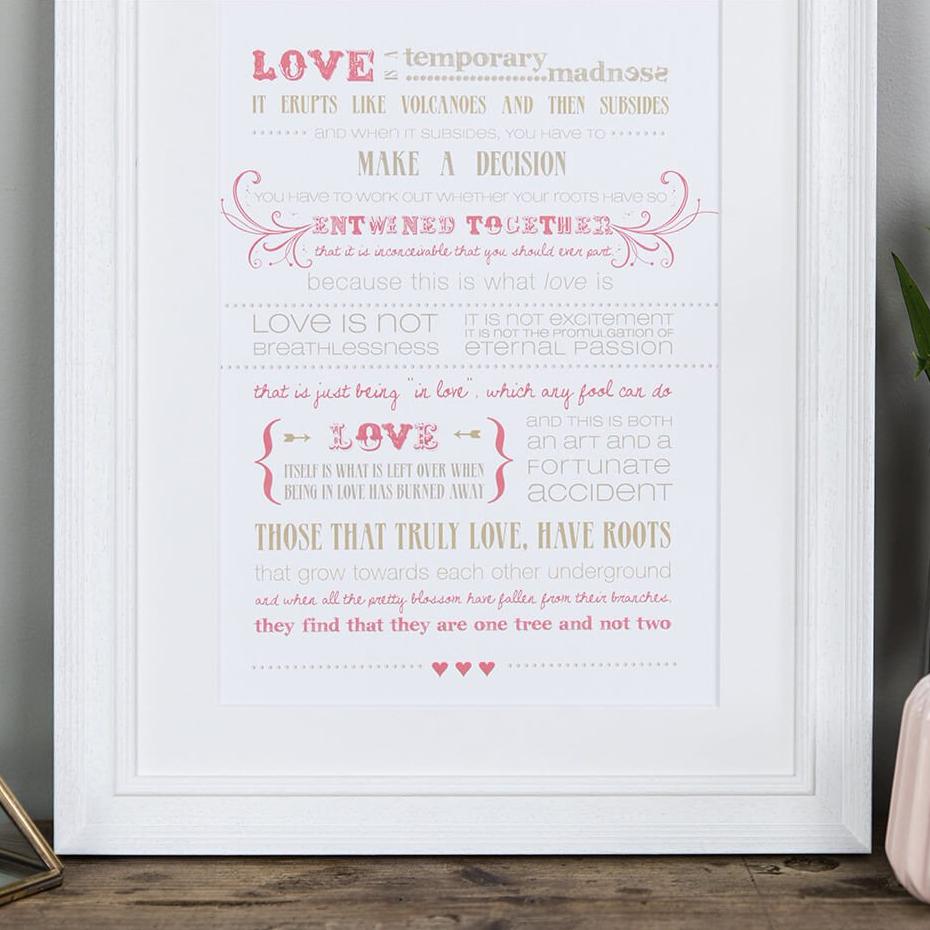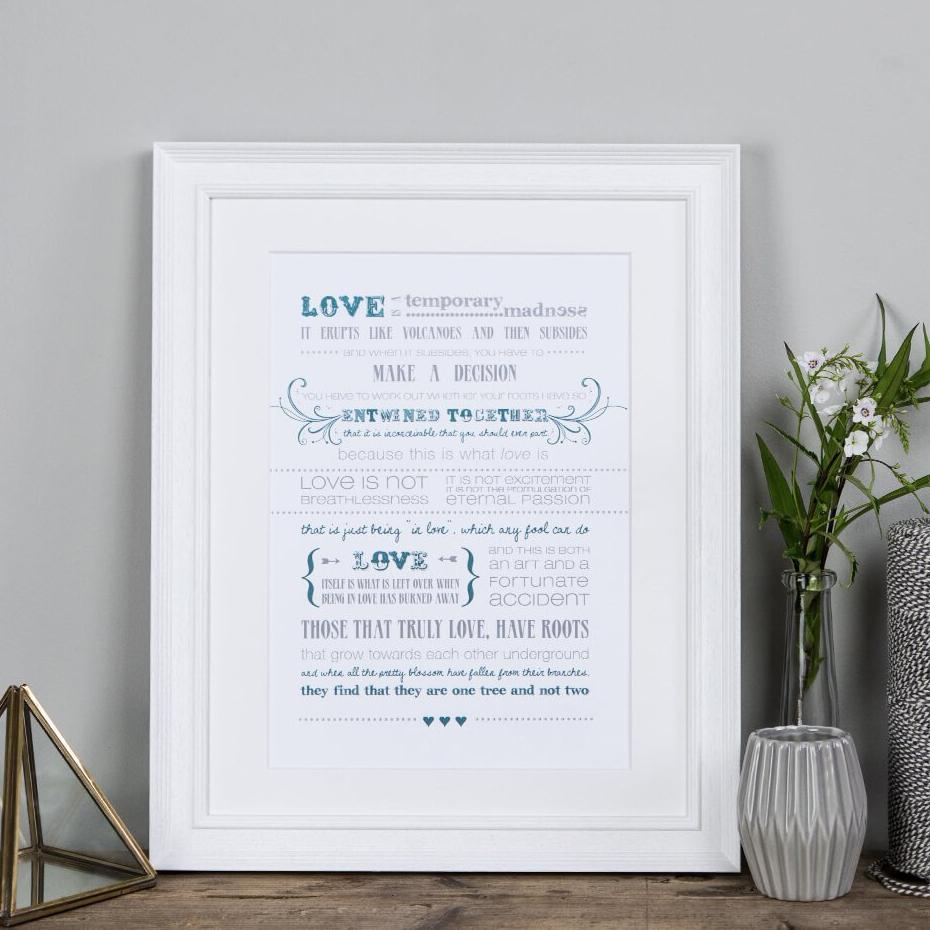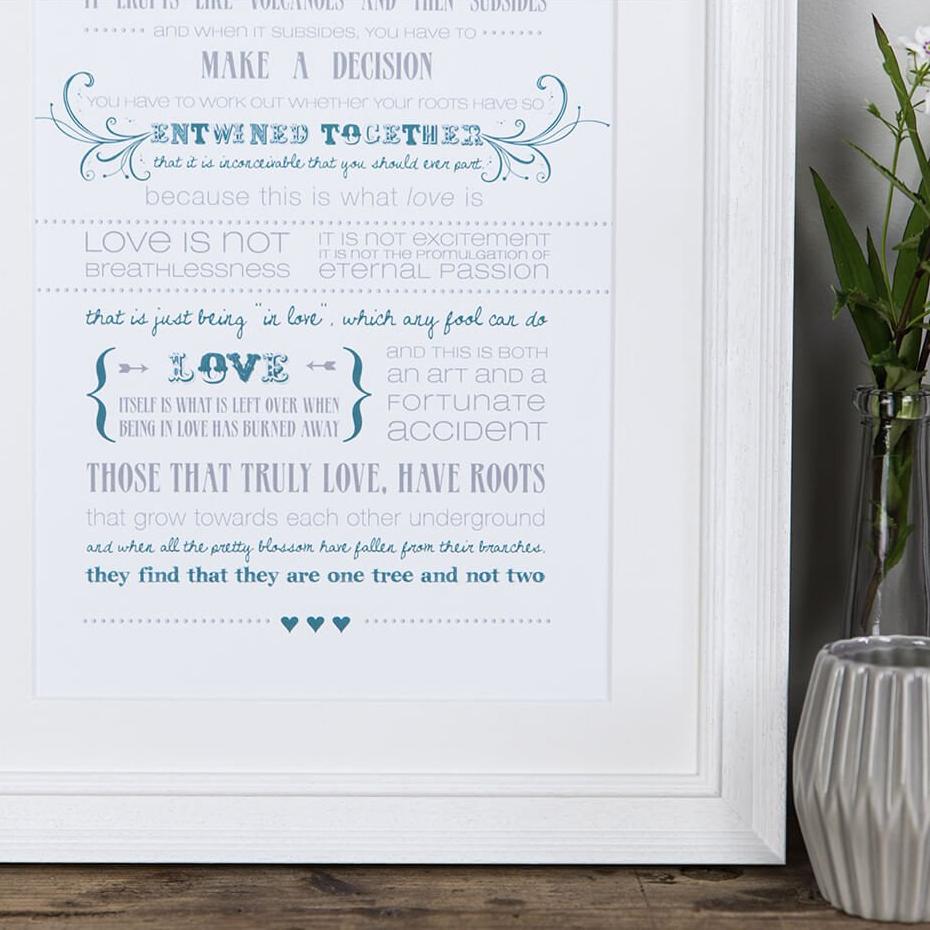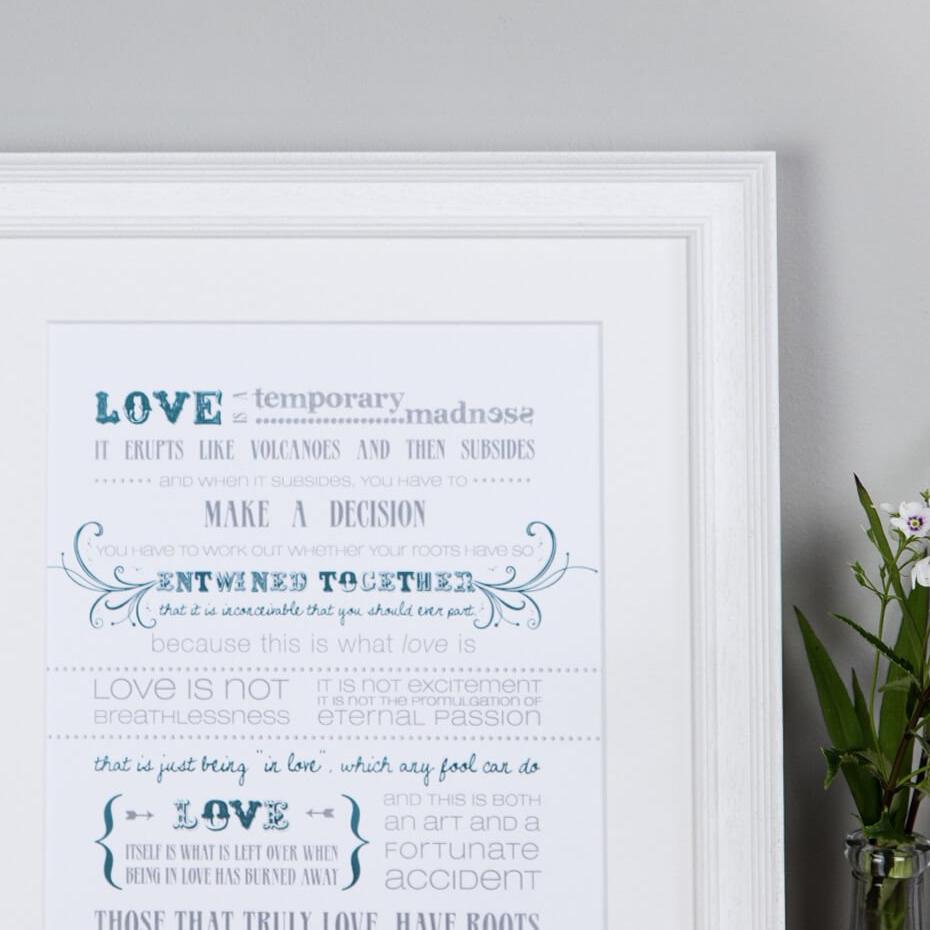 'Love Is A Temporary Madness' Typographic Wedding And Anniversary Print
A pretty, typographic print featuring the famous quote, 'Love Is A Temporary Madness'.
This simple love print makes a great gift idea for couples, for both weddings and anniversaries; particularly those who featured the quote as part of their wedding readings to one another on their wedding day. The beautiful words are taken from Captain Corelli's Mandolin, written by Louis de Bernières and give us his idea of what it truly means to love someone.
It reads:
'Love is a temporary madness; it erupts like volcanoes and then subsides. And when it subsides you have to make a decision. You have to work out whether your roots have so entwined together that it is inconceivable that you should ever part. Because this is what love is. Love is not breathlessness, it is not excitement, it is not the promulgation of eternal passion. That is just being in love, which any fool can do. Love itself is what is left over when being in love has burned away, and this is both an art and a fortunate accident.Those that truly love have roots that grow towards each other underground, and when all the pretty blossom have fallen from their branches, they find that they are one tree and not two'.
The print is available in three different colour schemes, in either A4 or A3 size, with the option of being delivered professionally framed and mounted, making it a complete gift package ready to hang with ease.
Choose from Purple & Teal, Pink & Golden Brown or Teal & Grey.
A truly unique wedding or anniversary gift for friends and loved ones and a pretty focal piece to have on display in your own home. 
Shop the rest of our wall art prints here.
Or click here to make your way back to our storefront.
Made from:
Digitally printed onto acid free, FSC certified 300gsm heavy weight textured card. 
Dimensions:
A4 (29.7cm x 21cm) and A3 (42cm x 29.7cm)
Framing:
Frames are made here in the UK by professionally accredited framers. The frames have a 30mm wide white moulding made from real ayous wood with a paint finish and a scoop profile. They are glazed with high quality acrylic glazing, which is a safer alternative to glass. Each print is mounted and fitted by the framers, sealed and then finished with hanging fixtures so that your print is ready to hang as soon as you receive it. As our framed prints are sent directly by the framers, please allow 6-8 working days for delivery (selecting special delivery at the checkout will not make your framed print arrive any sooner).
Framed prints are for delivery in Mainland UK only. Please get in touch if you are outside the mainland and we can get a quote together for you.
Orders are currently sent out on Mondays and Thursdays (cut off time for ordering is 12pm on those days).
Where Standard delivery is selected, estimated delivery will be 2-3 working days from dispatch.
Where next day delivery is selected, delivery will be the next working day after dispatch.

Share